Deaflympics Tennis Update - Australia's Best-Ever Result!
Our tennis squad has just returned from a successful campaign at the 2009 Deaflympics in Taipei. The Deaflympics are the major event on the international deaf sports calendar, with over 4000 athletes competing in over 10 days.
Opening ceremony
After a spectacular opening ceremony, for the tennis players the focus shifted to the Rainbow Riverside tennis complex. After several days training and acclimatisation to the tropical weather, competition was finally underway.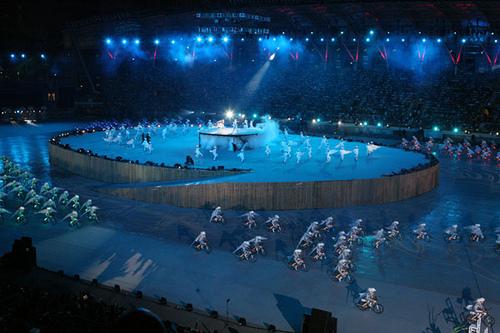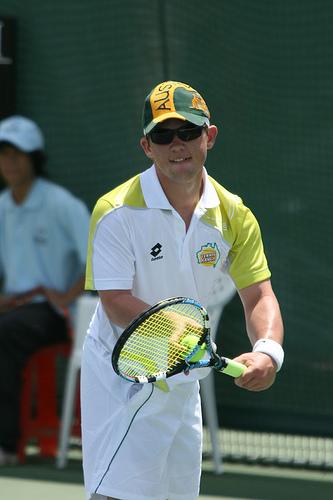 Some tough first-round matches
Jamie Zafir, from Queensland was the first on court, versus senior Japanese player Tetsuya Matsushita. After losing the first set 3-6, Jamie put in a might effort to clinch the second set in a tie break, but was unable to keep up the momentum in the third set, going down 1-6.
Australia's biggest singles hope, 5th seed Glen Flindell from Western Australia, had a tough opponent first up against Hans Toedter of Germany. Glen got of to a flying start, capturing the first set 6-2, but the German adjusted to Glen's attacking style, and won the next two sets 2-6 2-6. Hans went on to win another two matches, before losing in the semi-finals.
Our youngest player at 18, Joshua Sealy of NSW was up against young Japanese star Reiki Kajishita, who regularly competes on the ITF junior circuit, and despite being one of the younger and smaller players in the U/18's category is doing well and getting some wins on the board. Against Joshua Reiki showed his class, winning 6-0 6-0, on his way to the Silver medal .
Singles success!
John Lui of NSW, had his first match against unknown young Argentinian David Bodean. John served superbly, and won 6-0 6-0. His following match, against local hope Chun Ling was on centre court with several hundred spectators. Unfortunately for the wildly enthusiastic home crowd, John again won 6-0 6-0. His next match, versus eventual Gold medallist Mikael Laurent from France was somewhat of a role reversal. John played some superb tennis and had many game points but struggled to convert game points into games, and went down 1-6 1-6.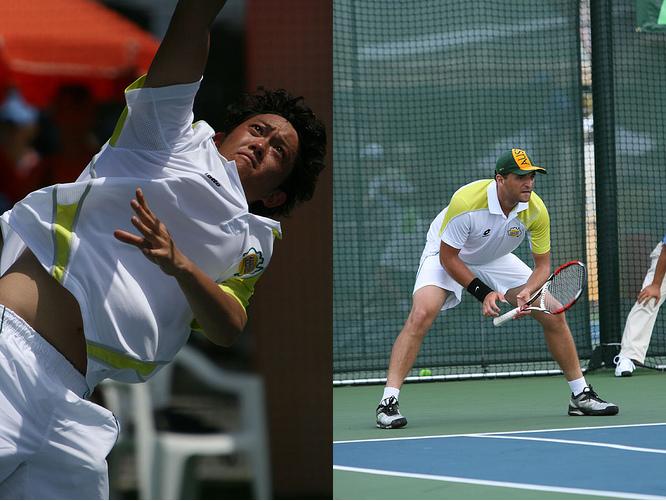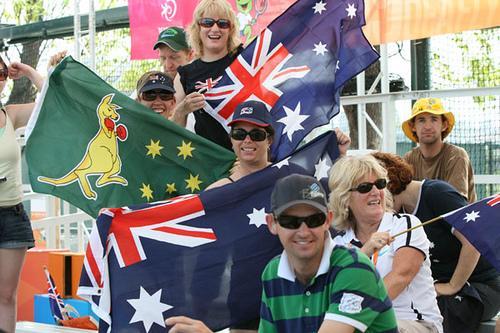 Doubles
In the doubles, John Lui and Jamie Zafir were up against the British pair of Daniel Tunstall and Jamie King. In a closely-fought encounter, the English pair prevailed 7-6, 6-4.
Australia's other doubles pair, Stephen Swann and Glen Flindell, had a good start, with a bye in the first round. This meant that their first match was the second-seeded German pair. Unfortunately for the Germans, they had to withdraw, due to one of their players requiring medical treament for an anaphylactic (allergic) reaction to peanuts.
The Aussies finally took to the court, against the fourth seeded British pairing of Darren O'Donnell and Lewis Fletcher. Stephen and Glen returned serve outstandingly in the first set for a 6-2 lead, and at 6-5 up in the second set finally broke serve again to win the match 6-2 7-5, guaranteeing Australia's second-ever Deaflympic tennis medal, and equalling the efforts of John Kemp and Kevin Mitchell in the Men's Doubles in 1973.
Gold Medal Playoff
The playoff for Gold was against the French pair of Mikael Laurent and Vincent Novelli, who were strong favorites to win.
The match was on the hottest day of the tournament at 38 degrees with extreme humidity, and on arrival on centre-court players were greeted by the sight of one of the players from the women's doubles final being carried from the court by the team of medical staff.
In a five-hour marathon, Stephen and Glen (with many thanks to the passionate supporters who showed up to go head-to-head with the French supporters in a battle of the chants!) showed their fighting spirit and never say die attitude, staged a comeback after narrowly losing each of the first two sets, but ultimately lost the match in a fourth set tie break. The final score was 4-6 4-6 6-4 6-7.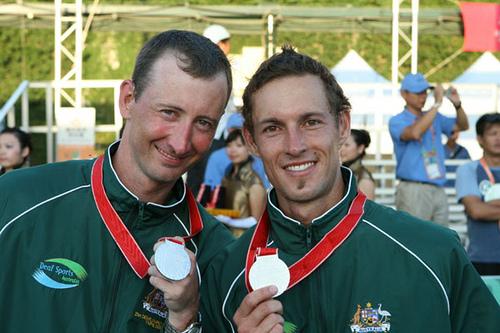 Russell Watts (manager & coach) said that the team was delighted to achieve a silver, particularly given the ever-increasing depth and talent in world deaf tennis. For Russell, who has been involved in deaf tennis since the 1980's and been part of many deaflympic campaigns, it was particularly satisfying to see Australia finally have some success at the Deaflympics.
Many thanks to those who have supported deaf tennis over the years. In particular, thanks to those who have contributed to the current campaign that started at the Australian Deaf Games in January 2008. Special thanks also to our sponsors Dick Smith and Tennis Ranch.
Finally, a huge thanks to those who ran the event, including the Technical Committee, and of course the many wonderful local volunteers from Taipei who made us feel right at home, and helped make our short stay in Taipei such a dream!